THE COMPLETE SOCIAL MEDIA MARKETING SOLUTION
Improve Your Social Media Marketing & Gain More Traffic
Over a million people among the world population interact with social media every single day. Thus, making them one of the most convenient platforms to gain traffic. An effective social media marketing strategy can help your business sales, growth and popularity. Our SEO experts can help you gain on your potential customers using these social platforms.
We plan our Social Media Marketing strategies taking into account your brand specification and targeted customers. Your social media presence effects your overall brand stance in the market as well as your website rankings in Google. Social media helps businesses reach out to target customers, spread brand awareness and increase your website traffic!
We put up quality content on your social media profiles to appeal to more customers who then click, share and revisit your website links. Not just that, once you have the attention of your customers we help you maintain it.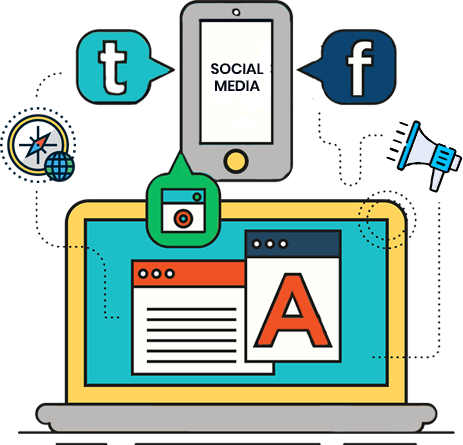 SOCIAL MEDIA IS THE FASTEST GROWING TREND
Professional Tools For Your Business
Growing your business can be a tough challenge if your marketing helper doesn't know the website stats. But not us! We at Saimtec thrive for perfection that is why imply professional tools to contribute to your business.
Brand Monitoring
We keep an eye on your brand's presence at social media and other platforms. Brand monitoring ensures everything is in tip-top condition, if not we help you modify and improve.
Social Media Contest
Our SEO experts will find out what your competitors are doing and make a strategy that converts. By keeping a watch over competition we protect your number 1 rankings.
Social Media Management
Putting up content and monitoring it for errors is not enough. Our expert make sure your social profile keep the users engaged and coming back for more.
Custom Profile Design
His first thing to get noticed in anything digital is its graphics. By customizing your profile designs we make sure your targeted customer is doing more than just willfully watching.
MANAGE MULTIPLE SOCIAL CHANNELS
Grow Your Brand's Presence On The Social
Networks That Matter Most